Asphalt Paving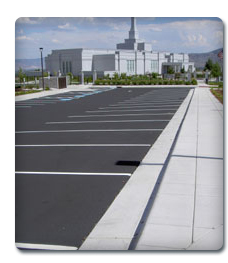 Asphalt surfaces are designed to provide a flexible, all-weather use. Some of the benefits include enhanced safety because tripping hazards are minimized, improved dust control, noise reduction, and reduced construction and maintenance time. Whether you're looking at installing new asphalt pavement or replacing the old, we've got you covered.
New paving consists of excavating and grading the area to establish desired grade and drainage. Next, an aggregate base course is placed and compacted. Finally, a specifically designed asphalt mix is applied to present a finished surface based on the customer's needs.
Asphalt Protectors, Inc. is your one stop shop for new paving construction. Our team of experts have extensive knowledge when it comes to completing the project from roads, parking lots, approach's, paths and more. We can assist you through all facets of the project from design right through to line striping. We are there to help you determine design and mix specification, or proper grade; we are there from beginning to end to ensure project success. Click here to request and estimate today.
Design
Excavation
Drainage
Sub-structure
Cement
Asphalt
Sealing
Speed bumps
Parking bumpers
Traffic signs
Line striping and stenciling