Line Striping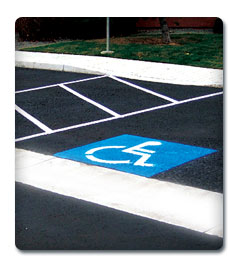 Although we can use both oil and water-based paints,… Asphalt Protectors, Inc. uses the latest in technology when striping or lettering your parking lot or road. Our striping crews have extensive knowledge and experience in re-striping your lot or striping it for the first time. We work closely with you to make sure that your parking lot meets all standards with county, city, state and federal regulations. Clearly marked stalls, handicap spaces and directional arrows all make for a more efficient and problem-free parking lot. They are a critical element in maximizing parking lot space and smoothing the flow of lot traffic.
We primarily use environmental friendly water base paint that assures you that your line will not yellow as it ages like oil base paint. The water-based paint dries relatively quickly, usually within ten minutes of application. An oil-based paint is used occasionally (depending on the season and upon request) which takes around 60 minutes to dry. Glass beads can be added for a more reflective purpose if necessary.
Check Out the Photo Gallery for some of Reno's Best Asphalt Linestriping Work!